During the Nizam's dynasty "Puttapaka" a small backward village of Telangana region of A.P. had about 20 families engaged in handloom weaving, who were patronized by The rich Muslim families, Damsthanams and Nizam rulers. With very limited resources the weavers used to achieve spectacular results. The Gajam family have lived in Puttapaka for the last 100 years having a pioneering history of producing the Telia Rumal. The late Shri Gajam Veeraiah, father of the present weavers was a Master weaver in his community. The Master weaver status began in 1956 after India's independence and with the inception of the Co-operative movement. Presently two of the brothers hold the master weaver status. The late Pupal Jayakar - then advisor to the Government of India visited the village of Puttapaka and apprised their work. Mr. G. Ramulu, eldest brother was awarded the "VISVAKARMA" by the late Smt. Indira Gandhi, then Prime Minister of India. He was also awarded with "National Award in Tie and Dye (Ikat) in 1990 and has won a UNESCO craft prize in 1992 for his contribution to the craft. More recently National Awards have been bestowed on Ramulu's wife Rambhaiamma and his other brother Narsimha.
TELIA RUMALS OF PUTTAPAKA
An example of "new" technology reflected in the imagery of the Telia Rumal. This double ikat piece is unusual in that only one dye colour was used. Notice the fine cross hatching detail in the plane wings and clock body.
His brother Mr.G.Govardhana has won a National Award as well as being honored by the President of India in 1983. He visited Denmark as an official delegate in the Festival of India held in 1988. He was appointed by the Government of India to the Weavers' Service Center under the ministry of Textiles in 1975. He served in the department until 1998, concentrating on developing many types of fabric using the traditional tie and dye techniques. He also developed wider width bed covers and hangings using traditional motifs of the Telia Rumal.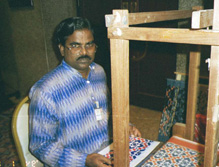 Mr. Govardhana demonstrating at the International Ikat Forum in Sarawak, Borneo in June 1999.